A Family Affair
This show is the work of three generations including Jim and Phyllis Avenson, their son Mark and granddaughter Laura. The entire Avenson family have always been interested in music, painting, drawing and other arts.
As the Avenson children were growing up, the family enjoyed art as one of their primary forms of entertainment, painting Easter Eggs, Christmas ornaments, or even letting the children use oil paints. All the children took music lessons and music filled their home when the family spend Sundays gathered around the piano.
Jim has always enjoyed weaving and other crafts but during these past few months, he has discovered painting as a therapeutic form of relaxation. Painting takes his mind away from life changes to allow him to focus on the art of creation.
We hope you enjoy our family's collection of art.
---
A Family Collaboration Of Art
An art exhibition in honor of Allie Lehman show casing the artist talents of her family members.
Featuring
Allie Lehman of Oak Hill
Brenda Kleppe of Mesa, AZ- Digital Art, Photographic Imaging and Charcoal Drawings
Norman Arne of Grand Rapids- Acrylic Paintings
Ronda Lehman of Grand Rapids- Photography and Stained Glass
Ali Grotberg of Maple Grove- Acrylic Paintings
Hanna Grotberg of Maple Grove- Chalk & Charcoal
---
A Creative Community 
Residents of Oak Hill Assisted Living
This activity featured work completed by the residents of Oak Hill.  It was made possible in part by the voters of Minnesota through a grant from the Arrowhead Regional Arts Council, thanks to a legislative appropriation from the arts and cultural heritage fund.
---
Time Well Spent
Norma Galatz
Wife- Mother- Grandmother- Great Grandmother- Creative Thinker
Norma's sewing ability has grown since she was a young woman, making many of her own clothes and sewing for her family. As she entered the artistic side of sewing, her color selections and intricate detail have been second to none.
In addition to numerous quilts, small to large, her work has explored other creative avenues including painting, needlework, card making and beadwork. Norma has spent oodles of hours using her hands to create treasures and masterpieces for all to enjoy. This show featured a selection of her quilts, some with skillfully crafted machine embroidery.
---
Three Generations
Gerald Friesen- Denise Friesen- Lea Friesen- Caitlin Meyer
The exhibit is a sampling of paintings from the family of Gerald Friesen.  The family holds a strong tradition of celebrating art and encouraging creativity in it's many forms.
The four artists highlighted in the show have strong visual as well as familial connections. Their work shows similarity in the use of color and spatial divisions. Through various subject matter, they communicate the things that they value, find beautiful and understand to be true. There is an honest search for meaning in the artists' portrayal of their subject matter.
---
Art Is Not A Thing, It's A Way
Corrine Lindford
Artist/Illustrator
Corrine Lindford's gift was recognized early in her childhood and served as a source of optimism through the hardships of the Depression. She believes luck had a role in her success. This exhibit highlighted her illustrations from childhood through her professional career using a variety of techniques. Come, catch a glimpse of a most lively imagination.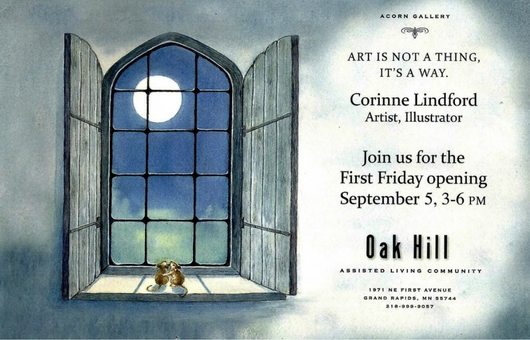 ---
SOJOURNS
Richard (Dick) Cain
Photography
Throughout his career as a journalist, editor, author, and photographer, Dick Cain was a discerning observer.  In 1988-89, he lived in Madrid, Spain, where he taught English. With notebook and camera, he recorded the daily life, art, architecture, and countryside during his travels to the four corners of Spain, as well as France, Denmark, Norway, and Ireland.  Closer to home, he also sought to capture his surroundings with a sojourner's eye.
---