"Youth is a Gift, Old Age is a Work of Art"
The Acorn Gallery is a dedicated space within Oak Hill Assisted Living to foster creativity. The gallery is central to our belief and commitment that creativity is an essential and powerful element of human life, no matter what your age or abilities.
The Acorn Gallery brings people together both within the Oak Hill Assisted Living but also with the larger outside community of families, friends and neighbors. The Acorn Gallery is a place to express who we are and what we bring to the world through a variety of creative activities.
Art facilitates connection, compassion and courage amongst people. For seniors, art stimulates the senses and triggers dormant memories and emotions. It stimulates one's imagination, encourages conversation and expression of self at a time in life when so much of other living has been given up or lost.
The Acorn Gallery is dedicated to the belief that creativity and art are essential to wholehearted and meaningful living, at all stages of life.
"
The Minnesota State Arts Board held a retreat in Grand Rapids two weeks ago.  They were so impressed that an assisted living facility held an art opening!  Thanks for being part of our community's First Friday Art Walk celebration!                                                              Kathy Dodge – Grand Rapids                  Arts and Culture Commission
"
---
Most Recent Artist Exhibit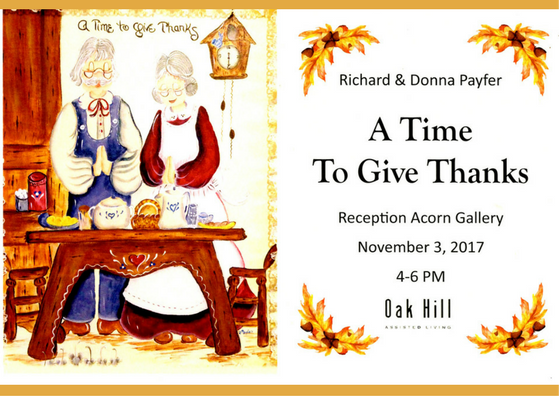 A Time To Give Thanks
Dick and Donna Payfer, or Papa and Mama Bear as they are known to many, have enjoyed creating hand-crafted items for many years.
Papa Bear began weaving baskets shortly after his retirement. Under the name of Bear Crafts, Papa and Mama Bear have displayed their baskets in many area shows. They gathered materials from nature's bounty: willow, red ozier dogwood, birch bark, grapevine, and black ash to create unique baskets.
Papa Bear explored other avenues of creative ability: carving, wood crafting, intarsia, and stained glass. Mama Bear worked along side of him, adding her abilities in decorating, sewing and painting.
Mama Bear began painting later in life, finding her inspiration in the many different displays of God's beauty in nature. Between her paintings and Papa Bear's artwork, their home is elegantly decorated.
Displayed in this show will be a collection of the varied hobbies and crafts enjoyed by this couple throughout the years.