"The sun shines different ways in summer and winter.
We shine different ways in the seasons of our lives."
~TERRI GUILLEMETS~
Tradition of Caring and Services
Out of a strong tradition of caring, Oak Hill Assisted Living offers residents a personal, intimate experience that embraces families and friends while providing for independence and privacy. Services are tailored specifically to each resident's individual needs. As those needs change, staff go the distance, changing with them. Services are provided from independent living to end of life care. We care for the whole person- body, mind, and spirit.
Families are always welcome and active in planning care for their loved one. Individualized care conferences are held regularly with residents and their families providing dedicated time to discuss resident needs, concerns and services. Our on-call nurses are available to residents and staff around the clock.
Strong Staff
At the heart of Oak Hill is our strong staff of licensed nurses, certified nursing assistants and direct care companions who provide unconditional, expert, loving care.
Oak Hill Assisted Living enjoys a stable, core staff with low turnover rate. We exceed industry standards with high staff-to-resident ratios. Staff receive regular and ongoing training related to resident's needs and state-of-the-art senior care.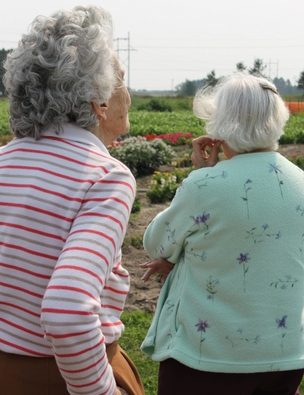 "
In the final months of mom's life, I was able to see her daily, often several times a day. Seeing her so often was the greatest gift I could hope for. I came to know most of the staff at Oak Hill. What can I say but you're the best, the absolute best. Each of you brought your unique personality, love and caring every single day. Mom felt special. The attention she received was comforting to her and the family beyond description. You truly made a difference in her final months. I will not forget your kindness.
Tom – Grand Rapids
"
Levels of Service
Based on a full assessment of each resident by a registered nurse, one of three care levels is determined. Resident's monthly bundled fee is determined by their care needs and service level. The nursing assessment considers a variety of resident issues including:
medical history
amount and complexity of medications
ability to participate in activities of daily living such as dressing and mobility
whether incontinence is present
fall risk
special services such as oxygen therapy or catheter care
dementia or other behavioral concerns
All levels of care include:
24/7 awake staff
Daily licensed nurse supervision and assistance
3 meals daily plus unlimited snacks and beverages
Social activities and leisure outings
Housekeeping
Laundry / linen service
Wi-Fi / cable TV / utilities
Wireless, portable 'Arial' call system
'WanderGuard' safety system monitoring
Board and lodging costs